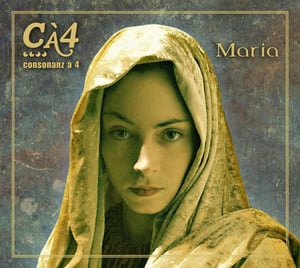 €

18.00
Der Wind heult, die Dohlen zwitschern, in der Ferne klingt eine Glocke – alles das ist leise im Hintergrund zu hören, wenn man sich in den Gesang des A-cappella-Quartetts consonanz à 4 und das Orgelspiel Elmar Lehnens vertieft und gibt der CD den Charakter einer live Aufnahme.
The wind is howling, jackdaws are chattering over the rooftops, a bell sounding in the distance; all barely audible but giving a live character to this captivating recording of the a-cappella vocal quartet consonanz à 4 and the organ playing of Elmar Lehnen.
Titel: Elgar, Verdi, Rheinberger, Liszt, Stravinsky je "Ave Maria", Poulenc: "Salve Regina", A. Carter: "Mary´s Magnificat", A. Pärt: "Most Holy Mother of God", W.A. Mozart, Liszt je "Ave verum", Messiaen: O sacrum convivium!", Orgelimprovisationen von Elmar Lehnen u.v.m.
Cà4 "Maria"
19 Tracks, 74 Minuten, Digipack, 24 Seiten Booklet
Aufgenommen zwischen Oktober 2011 und Januar 2012
in der Päpstlichen Marienbasilika zu Kevelaer
Hörproben:
http://consonanz.blogspot.de/p/horproben-maria.html